I'm going to have to order this shirt for her...
We went to a new bakery downtown this morning.
www.cakeflouronmarket.com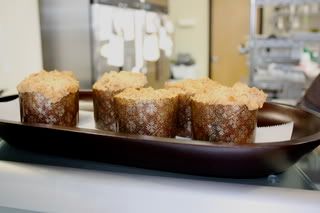 Their goods are all natural, organic and made from locally produced ingredients when possible. We shared a Banana Muffin & took the rest home for later....
Off to a "new" park. At least, one we hadn't been to before. Which is a shame, because it was a BLAST!
That's the bridge to Indiana (I-65) to Indy. This playground has 5 different equipment areas, all geared to smaller kids.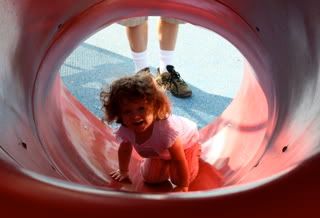 As Matt said, it's the kind of park that makes the adults want to play!
The best part.....
WATER!!!!!!
Notice Devin wearing less and less as the pictures are taken. I was not 100% prepared for this, but not bad. (I'd say 75%) I had her Crocs, a new diaper and a terry swim cover-up...not bad for not knowing there would be water.
She's usually not too keen on getting splashed/fountains etc...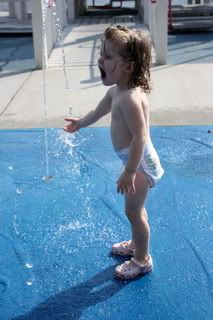 She's changed her mind about that too!
It was early, so there were just a few other boys playing. I'm guessing this is an extremely busy place during the heat of the day. Our only complaint was the upkeep. There was trash everywhere. At 9:00am on a Sunday, someone was trying to clean up...but they need more help. I know our financially strapped public parks are doing their best.