It was a very busy couple of weeks to say the least. But, we all stayed healthy and enjoyed the nearly 2 week break from our regular schedule. My friend Debbie loves to buy Dev clothes & found this at the Target/Neiman Marcus display. She wore it for the school's Holiday Performance, which was quite a treat. The elementary class sang, "All I Want For Christmas." Very fitting, since most are missing at least their two front teeth! They also played the violin for two songs and performed a skit.
I made so many sugar cookies this season. Like, I was officially OVER baking and icing cookies by Christmas Day. But, these turned out really cute for one of my tennis Christmas parties.
I think officially, we had 2.6" of snow last week. It was a perfect snow. It stuck to everything and we had lots of fun playing in the white stuff.
I nearly died rolling these snowballs, the snow was so wet and heavy.
I was so proud, until she immediately wanted to knock it over. I couldn't believe it & tried to persuade her to keep our devil snow person for a couple of days. But, she literally begged...and I wasn't about to ruin this kind of fun.
Then, we decided to use the rare stretch of time Matt had off work to install 800 square feet of hardwood flooring. It was an unbelievable amount of work. Very, very hard work. We started before Christmas Day, ripping up the carpet and padding in strips. There were 100's of staples and nails to remove. Our goal was to get everything prepped by Christmas Eve. So, I suppose it was a Holiday to remember....the Christmas tree on bare plywood.
We had a lovely Christmas morning. About 45 seconds after the last gift was opened, Matt started taking decorations off the tree. And, that signaled the start of our very big project.
She was actually a very good helper & extremely patient while we worked all day on the floor. My Mom helped a lot by entertaining Devin for a few hours most days and cooking some meals. Our house was absolutely upside down, as we needed most of the 1st floor somewhere else. There was a point when the kitchen looked like an episode of "Hoarders." Every inch of counter space had stuff stacked high.
We hauled in 47 boxes of Acacia wood.
This is the prep work. No wonder our legs, backs, knees and just about everything else hurt.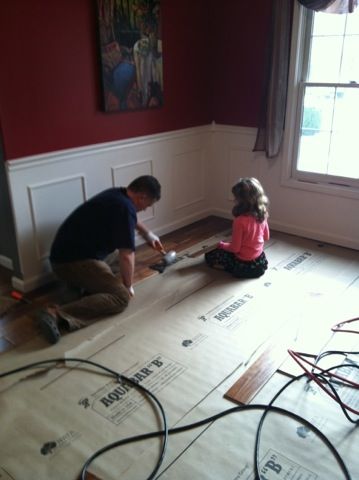 Devin took a spa break:)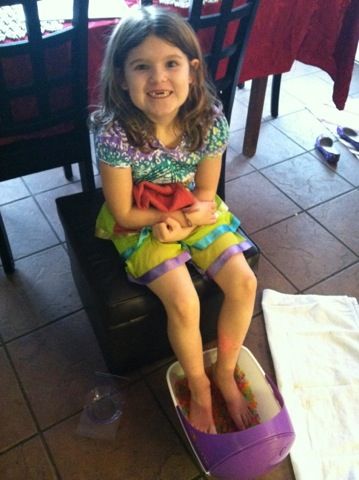 Baxter took a plastic wrapping break.
The finished product!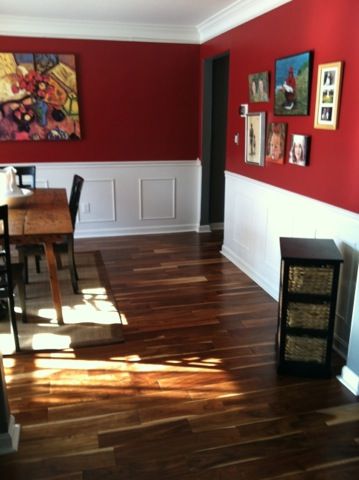 We were so proud of ourselves. Many spots took several hours to figure out & I would watch the time just clicking away. The right tools were also essential. Our friends, lent us the pneumatic staple guns and compressor. We had the saws, drills and nail guns. And, my Mom bought us two more saws/tools that helped tremendously for the door jambs and fireplace. So, we didn't end up spending a whole lot more than we budgeted for. For once.