One of Devin's favorite things to do is go bowling. Last week, our good friend TR visited from Michigan. So, bowling (among other things) was on our agenda. I don't always take the camera, but I thought the occasion warranted the trouble.
The knee-length Panda socks make the outfit, in my opinion.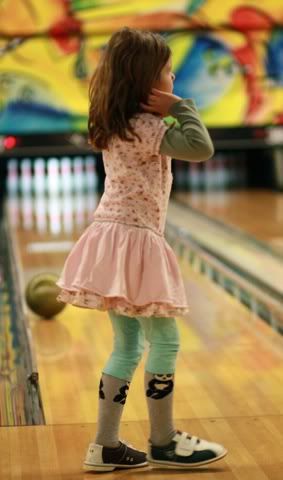 She has a whole routine when we bowl. But, each time we visit she's just a bit taller. And, stronger.
She even added a little body english on this one.
She handled TR's departure (after a week) with grace. It's not easy when a good friend has to leave, especially after all the fun we had. (We also took her frisbee golfing, shopping, dinners at steakhouses and lunch at PF Changs.)
Of course, we timed it perfectly with a trip to Grandma's house as a distraction:)