Raining on the 4th of July? How very un-American.
Secretly, I'm happy...the garden and lawn were desperate for a drink and I'm not paying for much extra water this year.
Anyway, Matt wanted some "real" fireworks for our celebration. This requires crossing the border into Indiana. We decided to drive to Mariann's, for some World Famous Pancakes.
Ga-Ga went with us...it's hard to turn down Fireworks & Pancakes.
I gotta admit, those are some really good pancakes.
We filled up the car at the gas station across the street. I mean, at $4.05/gallon we couldn't pass up that bargain. (It's $4.25 in metro Louisville)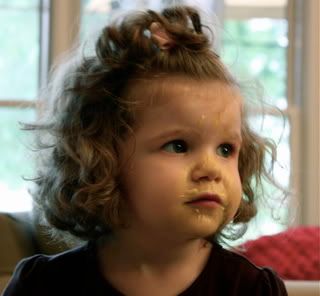 And, who doesn't love a good 4th of July cupcake?
We had an atypical dinner of Surf n' Turf. Crab legs & Filet for Mom and me, just crab for Devin and just steak for Matt. It was a great dinner...eating outside in the rain, under the gazebo.
It stopped raining just enough to light off few fireworks for Devin.