Picture from last weekend, we took her to the Par 3 a few miles away. She loves to ride in the golf car, go up to each tee box and every green. It made for an exhausted Devin, who took a great nap that afternoon.
Nice follow through!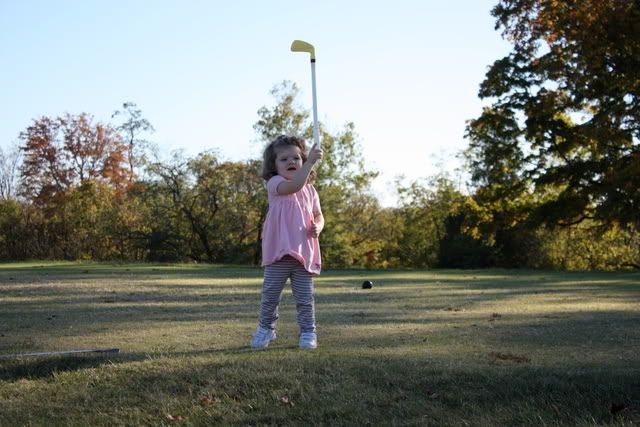 We ventured to Indiana for Pizza King, last night. It's in Charlestown, about 5 miles over the border.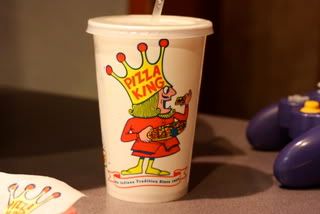 The drinks are delivered via model train, which runs around the restaurant. And, there's a coin operated TV above each booth. This place is very popular, with 2+ hour waits for "train" tables. Which is why we were eating dinner at 4:45 pm on Saturday.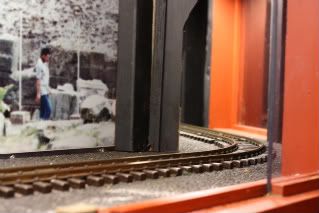 Pizza!
Since Devin was spending most of her sleeping hours on the floor, we figured it might be time for a "Big Girl Bed." The toddler mattress was long enough, but not wide enough for Devin's bizarre sleeping positions.
3 years ago we purchased a "convertible" crib. I'll admit, it did a nice job "converting" to a toddler bed. However, the conversion to a twin bed costs $200 for the kit & 8-10 weeks to deliver. Then, we would have to buy a guard rail to keep her from falling out.
So, we put the box springs on the floor and the old mattress on top of that.
Then, we realized the crib was put together in her room and will not fit through the doorway in one piece. After much work, her bed was ready.
She LOVED it. Interestingly, this was one transition she was excited about from the moment I raised the question, "Are you ready for a Big Girl Bed?" It's the first time she's allowed a blanket to cover her...she helped a pick a super-soft "fuzzy" blanket from Target. The sheets are Organic Cotton 300 Thread Count, also from Target. ($30.00 on Sale)
I guess the look is Dormitory Chic, for now. We'll get a real bed someday....
(I'm still getting firm "NO's" when I ask if she's ready for Big Girl Underwear)