Mom & I went to the Fairgrounds to check out the
Kentucky State Fair Horseshow
Louisville hosts the National Championship for Saddlebred Horses. It's something I'm glad I got to see once & strolling the Midway of the KY State Fair is
always
interesting.
Where else can you have unlimited pork products, deep-fried Twinkies or Snickers, and Elephant Ears.
I enjoyed the show. For people into that scene...this was like Oscar Night. We were surrounded by folks who cared quite a bit about the results of each class. The program was about 6" thick...we noticed people taking notes, scoring and cheering for their favorite.
When you think about it, can you ever have too much Pork?
The American Saddlebred.
Oh, how I long for a telephoto lens. (Ahem...Birthday/Xmas)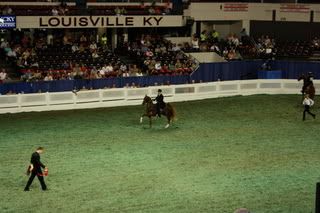 The announcer calls for various gaits and directions, while the live organist plays appropriate tempos and songs.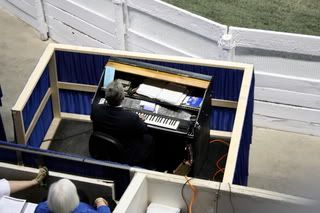 1st Place!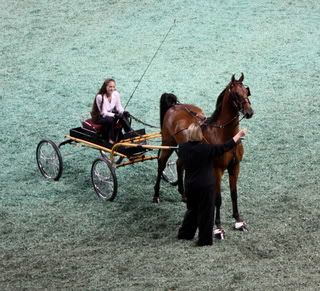 On a Devin-related note...while GG and I were at the Fair, Matt was trying to orchestrate Devin's bedtime routine. Since I take care of that 99% of the time, apparently it was a challenge.
We're off to Pa-pa and Gramma's house tomorrow morning. Devin talked about it non-stop, all afternoon. I had to talk her off a ledge, when she realized we weren't leaving until tomorrow. After her nap, she woke up and screamed, "PAPA'S HOUSE!" I used every trick in the book to distract and redirect her excitement.
We ended up at the Ted
dy Bear Store & Target. She found this:
Much to my chagrin a pink, fluffy tutu kept her happy for 2 hours. I was able to clean, pack, cook dinner and email.
Not bad...for a $12.00 tutu.