We still had some fun this week, especially yesterday.
On Monday, I forgot to use my brain and agreed to let her make her own clown face.
She asked me why she, "Didn't look like a real clown."
We assured her all clowns look different...and her face was perfect in its' own way.
I went all Martha Stewart again and baked this apple pie for my tennis luncheon. This is my creation, which combines several recipes and a few twists of my own.
The top crust is made of leaf cutouts...you know, for Fall.
So. We went to the mall to find the perfect gift for a 4-year old's Birthday party. Can you believe Santa is already there? Neither did we...I assumed they were still getting the decorations up and prepping.
I was wrong.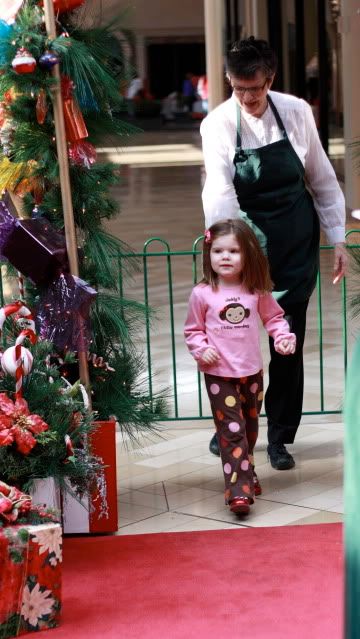 They were so sweet to let us do a "practice" run. There was no one visiting Santa yet and he seemed ready to talk to the kids!
She was
beaming
while Santa asked her what she wishing for.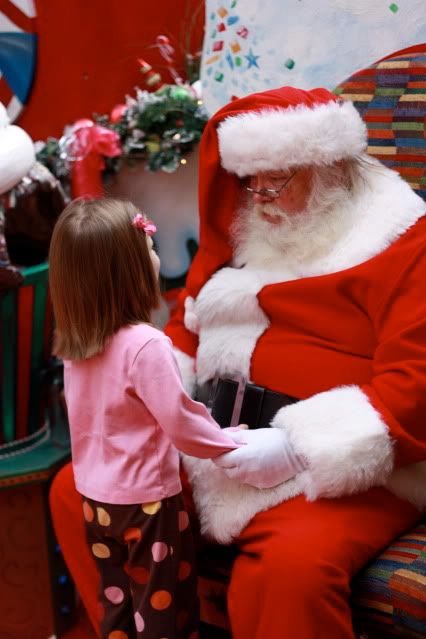 We had not talked about seeing Santa yet. Apparently, she asked for a bike and here he was telling her about always wearing a helmet.
Say, "Cheese!" We promised to come back for the real thing in a couple of weeks. I'm just not ready for the season yet. Soon. But, not before Thanksgiving.
As if we hadn't had enough fun, Devin went to her first "real" kids Birthday party.
This little girl and Devin found each other during summer camp. They're in different classes, but still see each other on the playground and when they trade classes on Mondays.
It's so fun to watch her interact with someone her age. And, A is perfect for Devin. She's spunky, outgoing and very verbal.
Devin had a great time at the party. Plus, she got a good lesson in watching
someone else
open presents and get all the attention.