I've only made one other political post in my little blog's history. And, this post isn't about my opinions....just an observation.
So, Dev and I went to get our friend a Birthday card. She suggests a Barack Obama card, which continues a running joke we all have together.
See, our friend is
not
a fan of Mr. Obama. In fact, he refers to him as, "Hussein." So, as a joke we bought our friend a Barack Obama commemorative plate.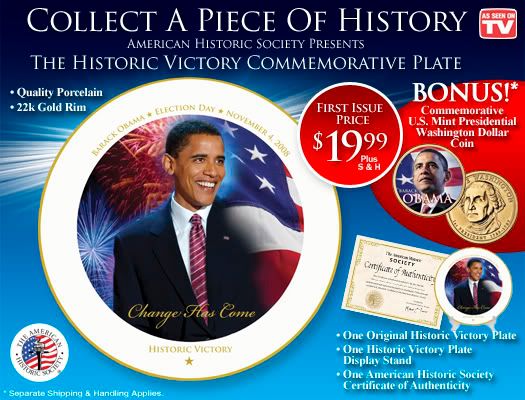 He loved it so much, it's still on OUR mantel.
Anyway, I go to get a card. It should be easy right? There were entire sections Hallmark designated for anti-Bush cards. Maybe not anti-Bush, but definitely making fun of him.
I start at Kroger, during my regular grocery shopping. They have a big selection, as in a real grocery aisle full of cards.
Not ONE Obama card.
So, I make a SPECIAL TRIP to Walgreens, the mecca of greeting cards....and TWO Obama cards. One of which was anti-Bush.
I got him one with Obama on the front and it looks like he's signed it.
I'm sure it will stay with the plate.