I love Liatris. I would need a bunch to make a real visual impression in the garden, but they are awesome for my cutting garden concept. Nothing looks quite as dramatic, as a 2 foot Liatris bloom. And, they last 2-3 weeks.
I have about 5 clumps that look like this. I've got to remember to divide....
First blooms in my California Giant Zinnia. I can't wait to see these in their full glory.
See the wildflowers in the back....the first of the blue Delphinium. The while Phlox is also blooming.
This hot weather is awesome after so much rain.
Everything is green, lush and happy.
OMG! I kept seeing the signs for the Lyndon Fair.
It's like it was custom made for Devin.
She was asking about getting her face painted the whole time.
Keep in mind, it's right around 90 degrees with 99% humidity. The lady started by wiping Devin face of sweat. Poor Baby:)
Notice the soy sauce stains on her brand new Gymbo. She her standard....salad with ginger dressing, an entire order of California Rolls (minus the seaweed...still too hard to chew), a few edamame and some Sprite.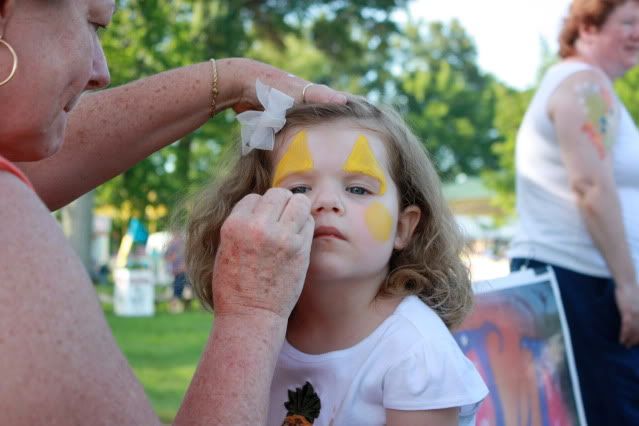 The rides were perfect for a 3 year old. Just fast enough to be exciting, not scary.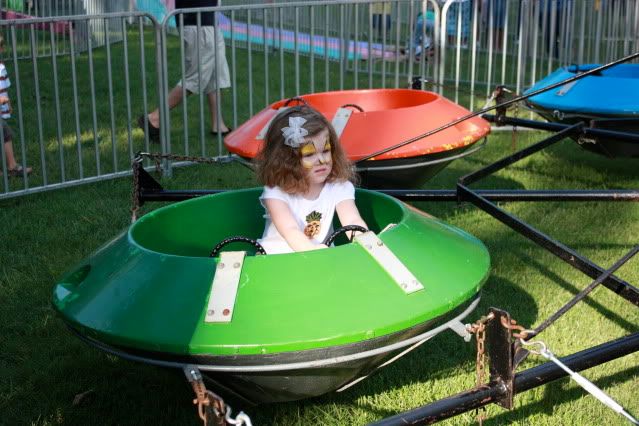 Devin got a serious haircut today. She lost about 3-4" of length and we thinned, to help her stay cool. I miss her long hair, but it's too hard in the summer. It's just SO thick. Her hair gets soaked in sweat during her naps, on the playground and just about all the time we do anything these days.
I'm temped to cut a little more, the next time. It's so much easier to comb.