The following is from an email to my Mom:

We made the journey to the Science Center, which was as unimpressive as I remember....but Devin was LOVING it! It was nearly empty of visitors, so it was a very fun morning.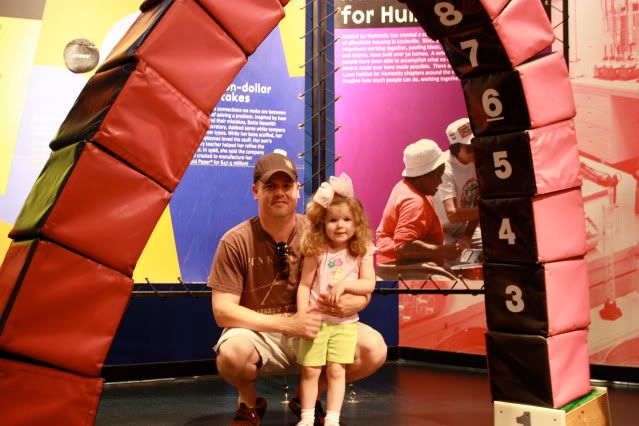 We decided to try an Imax movie, since they had an 11:00 am showing of Animalopolis. The ladies assured me she would like it, although it's recommended 4-12 yrs.

Here's a clip.

She LOVED it:) It was whole new experience...entering the theater, finding a seat, looking at the HUGE screen. When it was time to start they had it pitch black for a good 30 seconds and she was perfect.

The movie itself was cute and she laughed, talked and commented throughout. It was 30 minutes long and she was restless right at the end. (Also she was getting hungry)

Right at the beginning, they ran an ad for the other Imax movie about the Ocean and she went, "WOW, Mama look at the ocean!" Also, she recognized the Blue Footed Boobie when they were showing their mating dance.

We ate at a great restaurant called "The Cafe", just off Broadway. Have you been there? Very cool decor and good lunch/brunch food....extremely busy and slow service, but we sat outside and a real train came by with the conductor waving. She was on cloud 9 and kept asking the name of the place. (I'm guessing she will request a return visit.) The decor is eclectic antiques...many of the things I glanced at, reminded me of your things. (Quilts, the white ceramic pitcher in a bowl, Depression glass) The must be known for their desserts, but I didn't even look:)

Oh, we went to the Zoo this week.
Rode the Butterfly:
Didn't ride the train for obvious reasons.
Story
Yeah. 12 families are suing the pants off the Zoo, saying the train was going way too fast. A 22 month old spent 3 weeks in the ICU...not cool. And, not good for oue Zoo. That's money going to lawyers and such, not the animals:(
It is scary, thinking about how many times we've been on that train. And, how the speed certainly varies by conductor.
Anyhoo.
Our Zoo trip was a play date of sorts...always fun times!
Here's the garden update: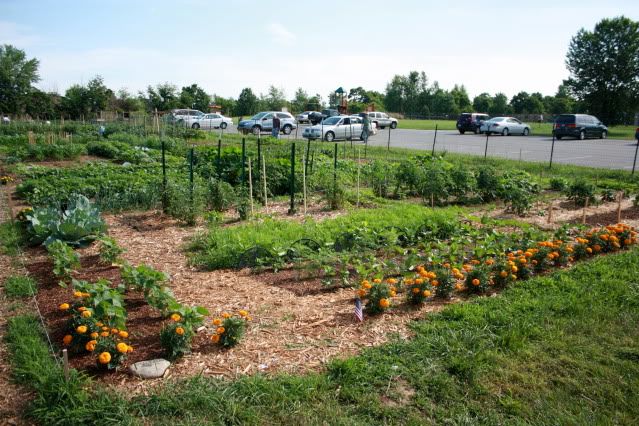 Remember this?
Chloe's right foot is hurt. She's limping badly, but acting ok. We'll visit the Dr. tomorrow, hopefully.