One of the best purchases we've made for Devin is this Kitchen Helper stand. It allows her to work at the counter and be (relatively) safe from falling. It has 4 rails and is solid on 2 sides. She learned how to climb in and out of it easily. She's used it for about 6 months already and it lasts until 75 lbs I think.
Well worth the $.
She
loves
to help cook, especially pizza with da-da.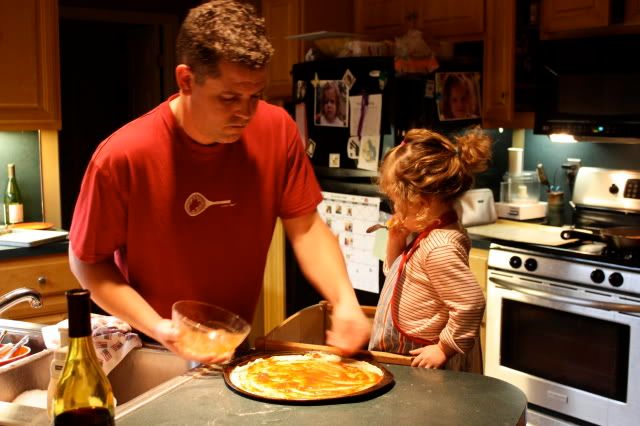 We decided to visit Santa this morning, we got there around 9:45 am & Santa was due to arrive at 10:00. The line was already about 5 deep, so we took our spot.
1st Christmas she was about 9 months old and seeing Santa was not a pleasant experience. But, she sure was cute!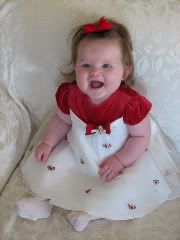 2nd Christmas was even worse. We never even attempted Santa at 18 months.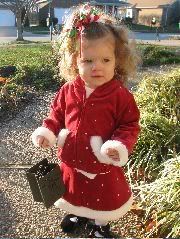 Her favorite present during this Xmas, was the Gymbo the Clown Puppet.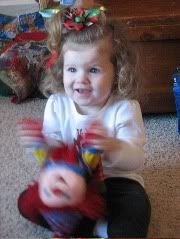 (The first people in line were 18 month old twins. Who promptly screamed for mercy the entire time)
Dev was all smiles in line and was excited to see Santa. Just as we were leaving the house she was clingy and said she didn't want to see Santa. I told her that Christmas was all about having fun and if she didn't want to see Santa that was ok. I suggested that we get to the Mall and see how she feels...
We were behind a 2 year old and in front of a 2 and 4 year old (sisters), so there was plenty of action!
Dev kept asking when was it, "her turn?"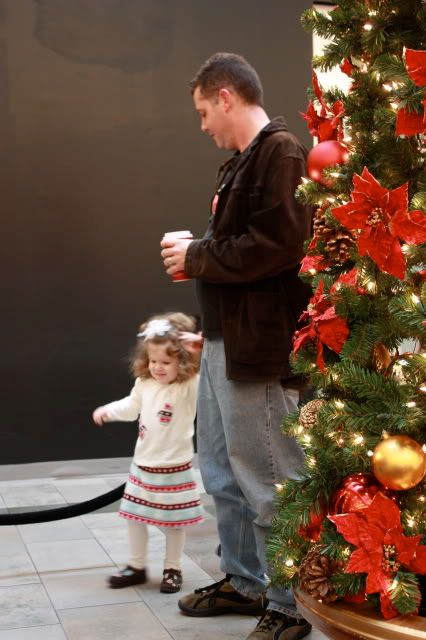 The moment of truth came and she was very willing to climb on up and discuss Christmas wishes with Santa. We had no tears and even a
small conversation
with the guy in red.
Obviously, this is serious matter...so the smiles were hard to come by.
When asked what she wanted for Xmas, Dev knew just what she wanted.
"Presents."
"What kind of present do you want?"
"Green."
Santa said he could look into some "green" presents. Could it be that my 2.5 yr old is already concerned about global climate change?
Or does she just want cash?
Here's my first Christmas (1972)