The title says it all...the time our power came back on.
With the endless amounts of suffering going on around the world, I was constantly reminding myself how lucky we are. Even with no power, we have clean water. Hot water. A gas stove and fireplace, a gas grill and eventually...a 2 plug generator.
It was annoying and inconvenient, not the end of the world.
From Sunday around 1pm until 12 noon Thursday, we did without power.
By day 5, it was getting really old. I took a few pictures...
Also, we missed Matt a lot. He was in Peoria attending his Grandfather's funeral & seeing is family. (We hope Ray is feeling better...recovering from a rough foot/leg surgery)
Apparently, the local weather idiots didn't see this coming. I was checking the weather like a maniac, wondering about playing a scheduled tennis match. Although the rain never made it, the winds of Ike were unbelievable. Ike's winds combined with a powerful cold front and voila'!
Sustained winds of 50-60mph, gusts to 85-90.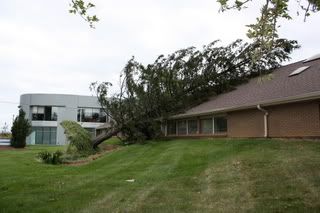 Notice Devin in the bottom, right corner for perspective.
I gigantic tree in neighboring Tom Sawyer State Park.
On Day 2, we took a trip to get Mums and pumpkins. Who knew Mum's were $9.00 a pop for a gallon?
We left with just pumpkins.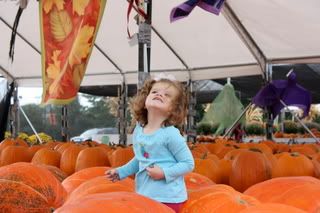 By Day 3, it was apparent how complex the clean-up process can be. They utilized the State Park parking lot and facilities as an East End base. Workers from all over are living & working to help. 16 hour shifts, until power is 100% restored.
Just after the storm, 75% of Metro Louisville was without power.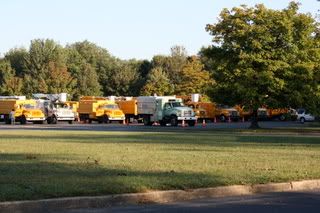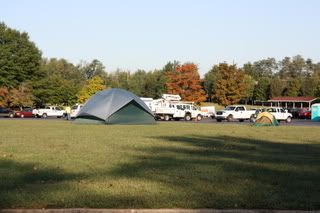 No power, meant very little gas available. Our Thorton's was one of the few open throughout the entire time. At times, lines were 25-30 cars deep. Notice the price. Not cool...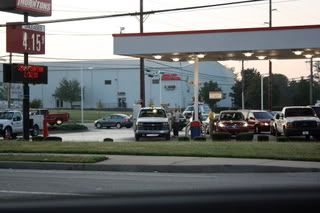 Our old roof did remarkably well, as neighbors have more damage. Our gazebo was the only casualty & it's fixable!
Matt's friend David, is my new hero. On Day 3, he brought us this...
It allowed me to do laundry, vacuum, charge cell phones/computers and WATCH TV!!!
I took this while driving...(Devin wasn't in the car)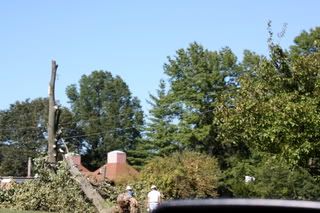 I was very, very thankful our preschool opened today. Devin was in desperate need of seeing some kids and her teachers. Her bond (with Miss Irene in particular) is growing, which was more obvious today. She was eager to go in the morning and very happy at drop-off. (Even with other kids getting upset, which can trigger her)
We had some tears at pick-up...it's like she's d-o-n-e, done. But, her constant chatter today about the morning let me know how much fun she had.
This picture shows the stoplight out at a dangerous intersection, near her preschool. The Army National Guard has deployed to Louisville, to assist with things like this. (Go Army!)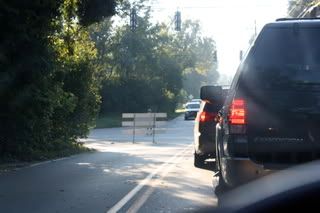 As I type, there are still more than 100,000 without power.