When I saw the raised garden beds at Costco, I couldn't resist. Matt and I spent an hour at Home Depot gathering the parts to make Dev a larger sandbox and quickly realized the Costco contraption would be much easier and fairly cost effective.
We used one as her new sandbox. Dev likes to sit in the sand, bury her feet and build sand castles. The other became my first raised bed on the side of the house. We planted some fun veggies and plants, for Dev to help take care of and watch grow.
My only concern is lack of full-sun. Tomatoes have done well on this West wall, strawberries and Clematis get HUGE, so I have high hopes for our little bed. I have 4 Kentucky Wonder Pole beans, green peppers, hot peppers, potatoes and 3 peanut plants.
I'm proud of the lettuce on the right. (below) It's the one thing I started from seed in February and had some success.
I'm a bit concerned about the untended plot next to mine. See it below? 2 senior ladies have shared the plot for the past 3 years, but there's been no sign of them so far. I left a message at the state park office, which may take weeks for a response. Budget cuts have left us to fend for ourselves with this garden. Every day that goes by, makes it so much harder to clear out the bed. We're already at the point of having to rent a small tiller, if I take over the space.
It such an ideal plot...it's the closest to the gate and parking. Plus, it's a corner plot. You have a path to work from on 2 sides. (makes it easier to tend) My idea is to use it for some corn, rows of sunflowers, and others space taking veggies...pumpkins & watermelon.
I lost the seed packet for this lettuce and forgot what variety it is. Cut-and-come-again variety of some sort.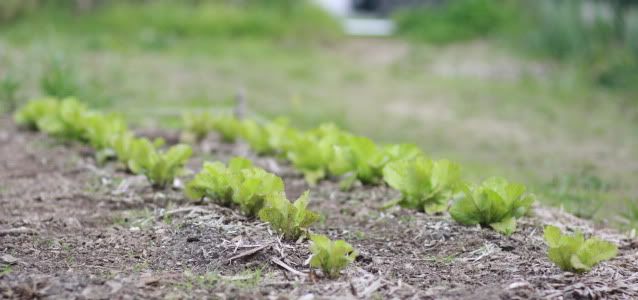 I planted the red and yellow onion sets with plenty of space to grow BIG. I hope to use them in some summer salsa.
It's a unique experience gardening at the community plots. There are so many different types of folks, doing their thing in the dirt. I can't help but draw the comparison to raising children. Raising crops is very similar. Everyone has their own way of doing things and their own opinions about what you're doing. There are several "old-timers" who are readily available for advice. (Whether I asked for it or not)