The good news? Dev's Papa and Grandma visited from Illinois this weekend. The bad news? NONE of my pictures turned out. Granted, I didn't take many. We were very busy and having a lot of fun...
Devin mentioned wanting to "sew" something about 492 times Saturday morning, so the girls went to Jo-Ann fabrics. She made a tooth fairy pillow and 2 potholders!!!
Devin's also been asking about going fishing for quite a while now. I found this small Barbie fishing pole for her Birthday.
Look who forgot her new sunglasses AND sunscreen. Luckily, it was almost 6:00 pm and we only stayed about an hour.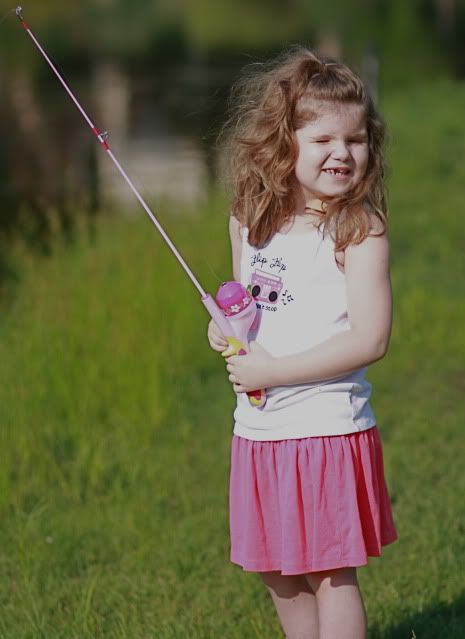 Our good friend, T.R is a fishing expert. So, it was fitting he caught the first fish. (He's also the one who took the fish off the hook and helped us get untangled)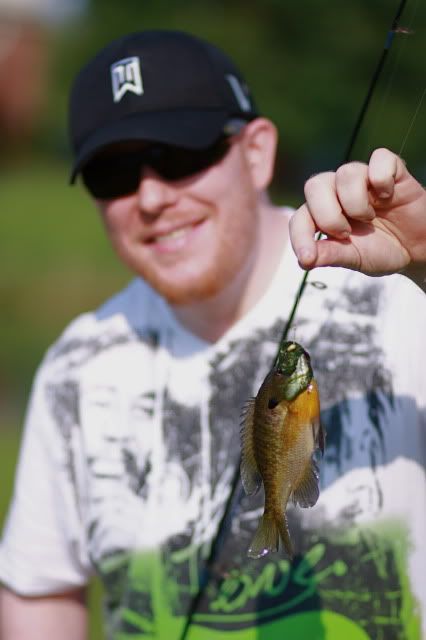 It took about 10-15 minutes of casting and getting nibbles, when she finally caught her first fish!


The little fish loved our mealworms and Dev began to catch a fish with every cast. I'm not sure anything makes me as happy as watching her experience an activity for the first time. She gets giddy and says the funniest stuff. Of course, the main thing she was saying was, "Can we go fishing tomorrow? I LOVE fishing!"
Finally, I might be a little obsessed with our Robin's nest and the 3 baby birds. We've watched the nest closely this spring, explaining each step to Devin. Until last week, as we pulled out to go to preschool, we noticed the nest was gone:(
I got out of the car to discover the nest and the 3 birds under some plants in the garden. The birds looked awful, but I could see the Mom and Dad flying around, upset, still interested... I grabbed the nest, scooped up the babies and jammed them all back into their under-the-gutter- home.
Mom and Dad Robin, didn't miss a beat and began feeding and caring for babies right away. All three are still hanging in: