I'm not a huge fan of January, but I guess I could have blogged ONCE in the long, cold month.
Oh well. I know the winter months are tough on my blog...I'm just not inspired to take pictures of our indoor activities. But, we have a had a great start to 2012.
Matt brought home this activity for Devin & they spent a good 2 hours working with the beads. How's that for fine motor control?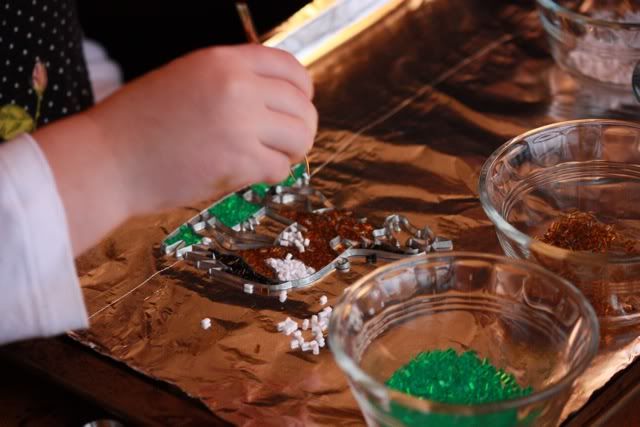 We also started gymnastics again. It's a wonderful program, just a mile from home and Dev takes a class with her old friend from preschool. Watching her now is amazing, so much bigger and stronger than just a year ago.
Devin continues to flourish at Montessori & I've started substituting on a fairly regular basis. Every time I spend a day working in the school, I learn something new. And, it's almost always something that makes me love the program even more. The children are treated with such respect and have very high expectations placed on them. It's so exciting to watch, even the toddlers (18 months-3 yrs), make free choices and explore an activity at their own pace.
Devin started really reading recently, which is a proud moment for her and us! It's as if something "clicked" in her head and now she gets the concept of making the sounds in the words etc.... I made another Mom laugh when we were discussing our kids and school. I told her that I'm sure people say, "Don't ask Shannon anything about Montessori....she'll talk your head off!" It's just so cool to see the concepts, the science and research and the actions all come together in one place.