Our day at Magic Kingdom was amazing. The weather was perfect. I've been to Florida a lot...several spring break trips in high school, college tennis playoffs, honeymoon and many others. But, this time was super-special. We had our 4.5 year old in tow.
Lucky for us, Dev's Papa and Grandma are Disney experts & know all the tricks.
We started on Cinderella's Carousel. No line, familiar, all good.
Onto Splash Mountain. This was the ride she was most looking forward to. But, as we approached, she saw the 50 ft. drop. And asked, "Are we going on that?" I told her if she wanted...she didn't have to.
She looked at me like I had 6 heads and said, "Grandma, I want to ride with you. In the front seat! So we get really soaked!"
And, they did!
On the Monorail home I had to snap this picture. Then, I started thinking. Are they being paid to sky write religious messages? Is it a hobby or a calling?
Do they think if someone's on the fence about accepting Jesus in their life, the sky writing will seal the deal?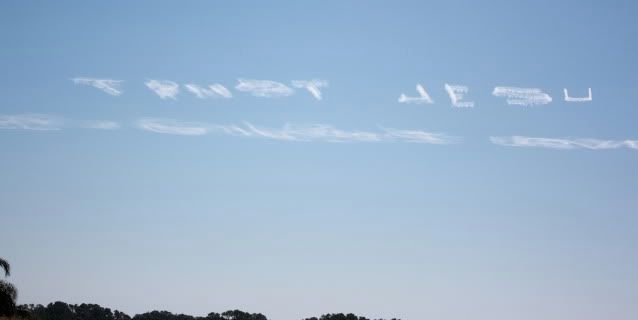 Anyway, I decided I wanted a pair of Minnie Ears for my souvenir. Devin chose the same pair and finally got her giant sucker. (the sucker was something she'd been looking forward to since...well since she saw one at the Freshmarket months ago)
Of course, the strap hurt her skin after about 3 minutes.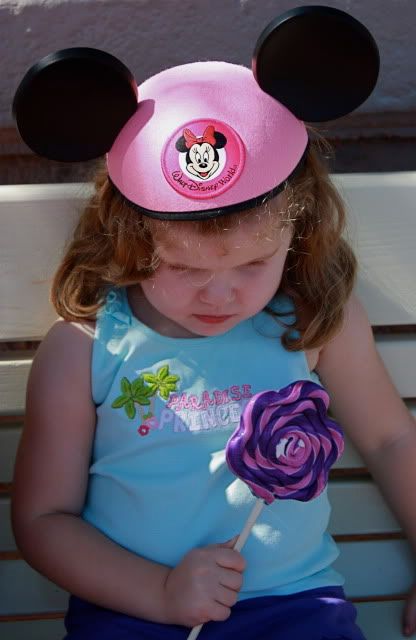 Next stop? Epcot!