The good news is, we had a great trip to Peoria to see Papa and Grandma PLUS Aunt Meghan and her boys. The bad news is, I forgot my camera. I also forgot to grab Devin's suitcase on our way home, but remembered just a few blocks away. The trip was quick, as we had a busy weekend planned.
Dev absolutely loved this martial arts Birthday party. The instructor was ultra high energy and seemed to really enjoy his job. Since the party, Dev has been answering us with, "YES SIR and NO MAAM!"
We had a relaxing Easter morning & actually ended up watching The Sound of Music. The children and music really caught Devin's attention, plus Miss Karen has been teaching the "Do, Re, Mi" song at school. Once it was warm enough, Matt hid some eggs in the back yard.
That afternoon, the winds were gusty enough to try and fly our kite. Only in my wildest dreams did I picture Matt proudly trying to fly a $2.00 Barbie kite in public.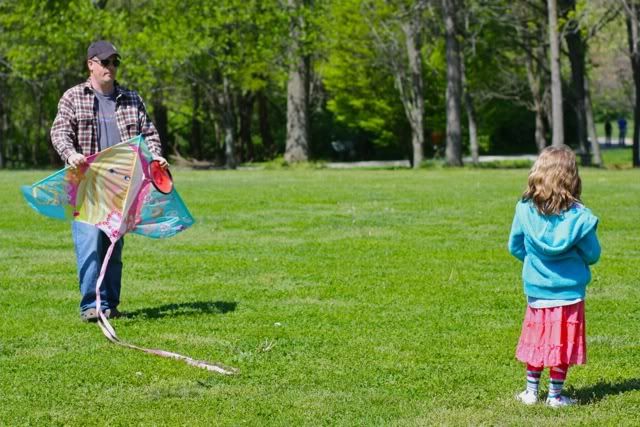 After kite flying, we decided to take a quick nature walk. Guess who insisted on wearing a bunny mask into the woods?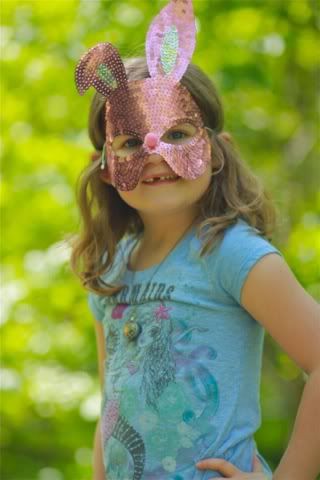 This picture is a good depiction of her 6 year old frame. She's just over 47" tall and 52 lbs. You can see her long arms and legs...tennis anyone?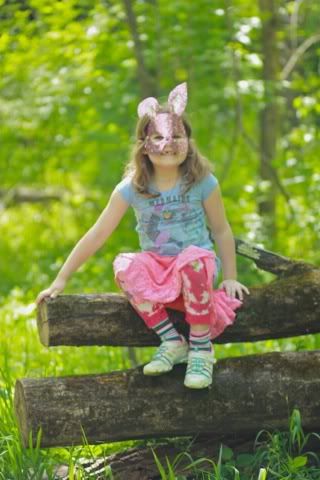 So, we came to a creek with just enough dry rocks to make it very tempting to try and cross. For whatever reason, Devin was fascinated with the idea of trying to get across and drove us crazy asking. Of course, Matt thought it would be fun and "good for Devin" to try.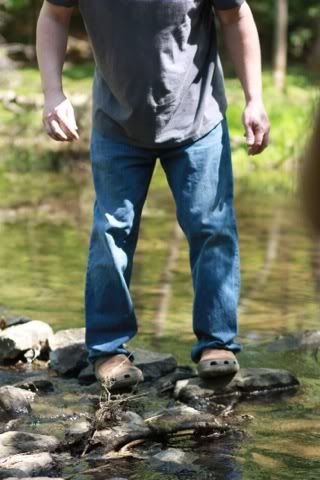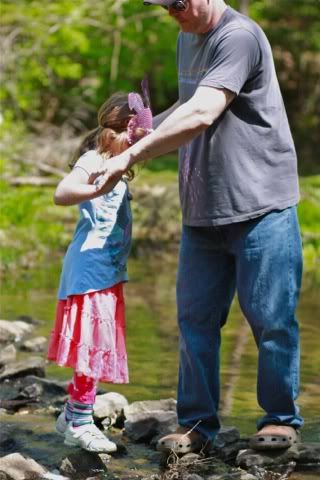 We all made it across, dry and safe. The weather has made it hard to stay inside lately...we're spending this week (Spring Break) outside as much as possible. Our attention now turns to Devin's Birthday Party this weekend. It's a Pony Party and the big shocker is...I'm doing the cake.
I've been practicing with my new Wilton kit:)