Happy New Year! I'm not sure where 2010 went, but my Yo Gabba Gabba calendar is history. (This year it's Yoga Cats...thanks to Gma and Gpa!)
Santa brought a Cotton Candy Machine this Christmas, so we busted it out the other day while playing, "Fair." Yes, nothing brings back the memories of hot summer days spent at the pool and the State Fair like homemade cotton candy.
Yesterday, she used that fake snow material to make pretend cotton candy. It involved a lot of markers on fleece and cutting. (Which was a ginormous mess) But, it looks real and is better for teeth:)
This picture depicts 2 cherished gifts...Devin's Twinkle Toes and my new lens!
Apparently, there's a bit of a learning curve. I chose this lens:
Canon 85 mm f/1.8
It's a medium telephoto lens, ideal for portraits and low-light indoor shots. (I never, ever use the flash)
This was gymnastics class yesterday...she was moving super-fast and I thought it did a good job of stopping the action and her face is crisp. (The lens has an ultrasonic motor and is lighting fast)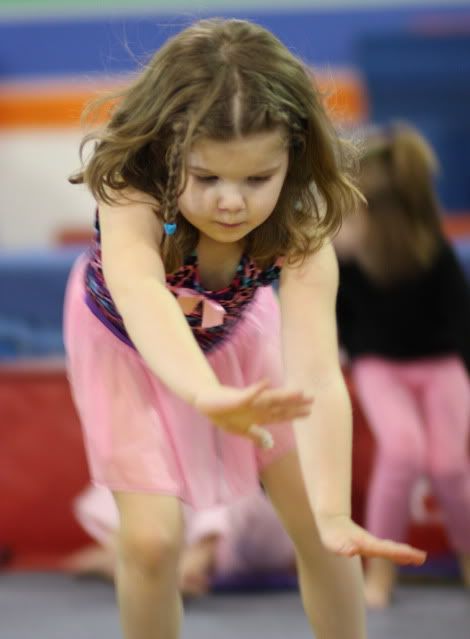 We spent last week with Gma and Gpa and the whole family! Everyone. In one house. For those of you keeping score at home:
We had 11 humans (8 adults and 3 children), 2 dogs (100 lbs. each) and 3 cats. So, there weren't too many dull moments.
Her cousins painted pirate treasure boxes.
For posterity, I captured Gpa performing his last act as an attorney. (Helping a family friend with his Will) After 30 years, Ray gets to be a stay-at-home Gpa! We expect lots of baking, Sudoku solving, Scrabbling and Rosetta-Stoning!
And, finally...the Hostess with the Mostest! This lady cranked out a full Ham dinner for 15, Turkey dinner the next night and then hosted a party for 50+ folks.
NO paper plates, NO plastic cups and NO caterer.
Take that, Martha Stewart.
(See how my new lens perfectly blurs my husband stuffing his face with caramel corn)