We had quite a weekend celebrating Christmas! It started early Christmas Eve, when we all went to Matt's work to fix breakfast for his co-workers. (On his day off...what a guy!) We made blueberry pancakes, bacon & blueberry muffins. Everyone was appreciative, except for the guy who splattered blueberry juice
all over
his white dress shirt and tie. Oops:(
After that, we hit Kroger and it wasn't too bad. I witnessed 2 freak outs, when Kroger appeared to have run out of whip cream and butter. There were no less than 5-10 people standing perplexed at the dairy case.
Christmas Eve dinner at Ga-Ga's featured homemade lasagna, chocolate cake and stockings to open. We were all beat from cooking and cleaning & fell asleep easily and early.
A white Christmas is rare here, but we actually had a dusting and woke up to a beautiful snowy morning!
Here's Dev opening one of her first gifts. Matt found it...apparently she saw part of it in the hotel on our trip down to Florida. Talk about a steel-trap memory. It's cute...by the Wallace and Grommet folks.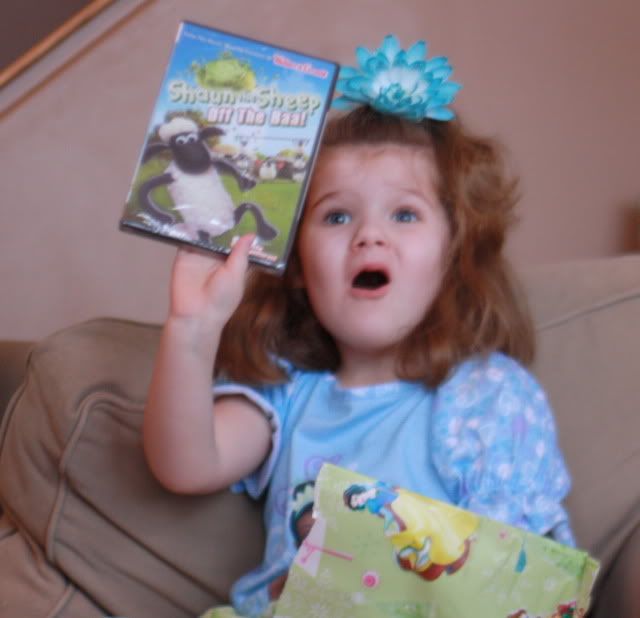 As always, the simple gifts I threw in the basket as afterthoughts, were very popular. She loves this weird gooey stuff I found in a can. It's meant to make flatulent-like noises when you stick your hand in, but turns out it's like a non-messy play doh. She's messed with the stuff for hours.
The $.99 kaleidoscope!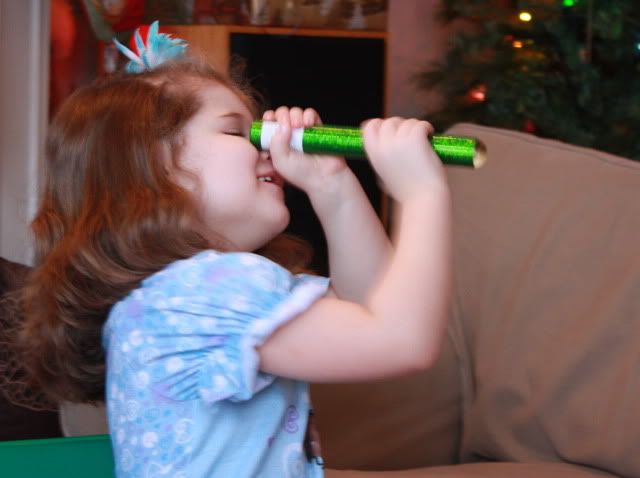 We're busting out the Easy Bake Oven this afternoon....wish me luck:)