Where do I start? My camera took 66 awesome pictures this weekend, before it stopped working reliably. The worst part is, various lenses won't work. I'm afraid the camera body itself is broken. I'm taking it back to the camera shop tomorrow:(
We went on a "nature walk" a few mornings ago. We try to get out before the thermometer hits 97 degrees.
(Note her embellishment...the sunflower pin she found from my wedding memory box)
I planted several extra tomato plants in large pots for the deck. (The regular plants are ginormous on the side of the house) The potted plants force the fruit much sooner and they're quick to ripen.
We made the trek to Papa and Grandma's this weekend. Dev was over the moon excited and asked us 75 times, "Are we there yet?"
Devin requested goggles, which Papa found on a trip to Wally World. The Williams/Dickson head size curse, means Dev's got quite a melon. (Plus the hair) Grandma came to the rescue and combined the 2 goggles into one. (very MacGuyver)
The bubbles were a huge hit for everyone!
Dev wore the goggles at the dinner table. I actually squirted hot corn juice in her face, when I placed the corn holders in the cob. She said, "Good thing I was wearing my goggles!"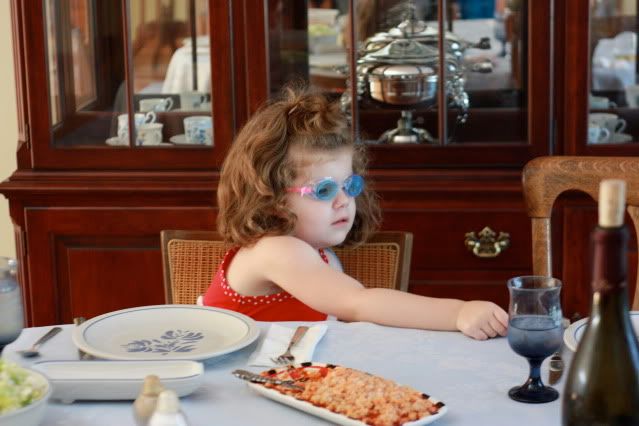 We always make a trip to UFS. (Unclaimed Freight Service) It's a crazy store of random stuff that people don't claim. You never know what you'll find at UFS....but the savings are for real!
I bought skewers, a beach chair for Devin, some garden ornaments, Diet Squirt (unavailable in Kentucky), champagne....you get the picture.
Matt was checking out some bar stools, when I noticed the coffin for sale.
It's "Amish."
I sooooooo wanted to ask the manager, what warranted this sign.
We had a great visit, but Devin's really missing her Papa and Grandma. We Skyped, which helped.